Shipping Policy
All in-stock orders will arrive to you within 5 to 21 business days. Any changes made to an order after it is placed or if there are any backorders may delay shipment.
Freight and shipping charges will all be calculated based upon order weight, size, and ship to address. There may be additional fees for residential addresses and liftgate services.
Due to size and weight constraints, any item weighing over 75lbs will be shipped via freight services. This also includes any oversized items such as bead board, finished plywood, and etc.
Upon product receipt please do the following:
Please inspect the shipment immediately. Photos are not required when receiving the shipment, but are recommended for your personal records and safety in the rare event that a freight claim needs to be filed.
Before signing off on the delivery receipt, you must make a notation for any visible damages and/or shortage (if any). It is very important that you do not refuse the order.
Please sign for piece count as well as pallet count.
The freight carrier has acknowledged the receipt of the shipment from our facilities in good condition. By your acceptance of the shipment from the carrier on the delivery receipt, you acknowledge that the products has been delivered in good condition (unless otherwise noted). We cannot be held responsible for loss or damage if you give the carrier a clean and clear receipt.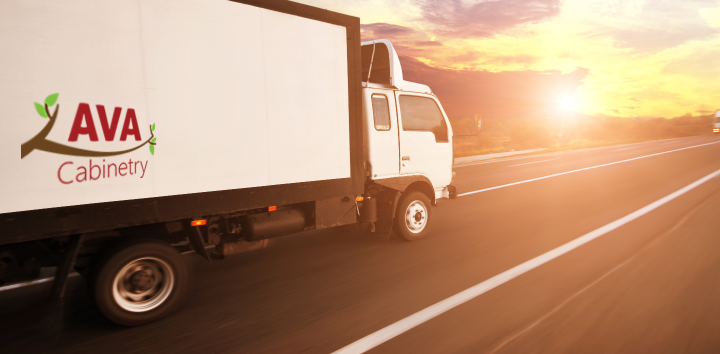 If you are unsatisfied with the product in any way we do accept returns. Please see our returns policy for more detailed information. Freight Claim Instructions:
Unconcealed damage and/or shortage: Claims can be made only when it is indicated on the delivery receipt at the time of delivery. The claim must then be reported by email within 1 week from delivery by sending info regarding the pieces damaged and pictures showing the damage. No claims will be allowed without the proper paperwork signed by the customer and the transportation company.
Concealed Damage: Any concealed damage claims must be noted immediately upon unpacking cabinets. Once the cabinets are assembled in any way we cannot refund/replace your cabinets at our cost. Claims must be made within 72 HOURS OF PRODUCT DELIVERY. Claims must be made by email to us by sending information regarding the pieces damaged and pictures showing the damage.
Pictures should be taken of all packaging prior to unwrapping if there is visible damage.

All damaged items and packing materials must be kept

until inspection by a claims agent. The shipping agent may request to take these pieces before a claim will be paid.
AVA Cabinetry will decide whether to send an entire cabinet or just the defective/damaged part. Return of the defective/damaged item(s) may be required. If a return of the item is required we will supply you with a pre-paid return label. It is the customer's responsibility to get the product to the appropriate shipping agent once the return label is received.
Replacement items are generally shipped by ground carrier. Expedited services will be the responsibility of the customer.
If shipping is arranged outside of AVA Cabinetry – we will not be responsible for filing claims or providing replacements for damages caused during shipping.
If there is a mistake with your order, please click here to email us with your order number, buyer's name, shipping address and a brief description of the mistake. We will respond with a confirmation email and will proceed to remedy the error as soon as possible.
This policy is subject to change without notice at any time.